DR. HENRY CLEVER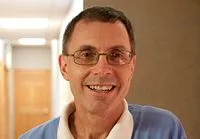 Dr. Hank Clever was born in Columbia, MO during the medical school years of his father, Dr. Henry Clever, Jr., the beloved St. Charles pediatrician. He is a graduate of Duchesne High School, class of 1976. Graduating from St. Louis University with a BA in history in 1980, he spent the next 2 years at Kenrick Theological Seminary. In 1982, he enrolled at University of Missouri-St. Louis, completing his premed studies in 1984. At that time, Dr. Clever began medical school at the University of Missouri-Columbia, graduating in 1988. He spent his internship year at St. John's Mercy Medical Center, St. Louis and completed his dermatology residency at the University of Oklahoma in 1992.
Dr. Clever has been in private practice since that time in St. Charles. He founded First Capitol Dermatology in 1998. In 2004, with the demand for dermatologic surgery services increasing, he changed the focus of the practice to purely dermatologic surgery with an emphasis in Mohs Micrographic surgery. The focus of the practice is to provide excellent surgical care in a Christ-centered environment.
Over the years, he has served the community in many medical and social positions. On a local level these include chairing the Peer Review, Bylaws and Credentials Committees at SSM St. Joseph Hospital, St. Charles,then holding the position of Chief of Staff of the combined medical staffs at St. Joseph Hospital and St. Joseph Hospital West from 2006-2007. On a national level, he has been on the Board of Directors of the American Society for Mohs Surgery and was the president of that organization in 2010. He continues to sit on the Peer Review and Credentials Committees at SSM St. Joseph Hospital, St. Charles. He is on the faculty for the Focus on Skin Cancer annual course for the ASMS. He was named one of the St. Louis area's top physicians by St. Louis Magazine in 2013 and has been given that honor every year since.
On a local level, he was the founding Board President for Birthright of St. Charles.Dr. Clever serves as a consulting physician for HopitalSacre Coeur, Milot, Haiti and additionally, spends a week in that clinic every year. He served the Boys Scouts as an adult leader, receiving the Bronze Pelican and St. George Medals. Dr. Clever continues to be an active baseball and softball coach, as he has done for many years. He was named the CYC St. Charles District Man of the Year in 2014.
Dr. Clever and his wife, Dorie, are the proud parents of 9 children. They are active at their home parish of St. Joseph Cottleville. Dorie is the Skipper of the Mariner ship Minnow. They homeschool their children through 8th grade and some through high school. They enjoy outdoor adventures, gardening and raising chickens. The family does not have many dull moments!

HISTORY OF FIRST CAPITOL DERMATOLOGY
Named after the historic status of the St. Charles community, First Capitol Dermatology opened its doors at 546 First Capitol Dr. on May 4, 1998. Initially a general dermatology practice with a heavy emphasis on surgical dermatology, the demand for surgical dermatology in the St. Charles community grew quickly. In 2004, Dr. Henry Clever, responding to the needs of the St. Charles community, pursued training in the Mohs procedure through the American Society for Mohs Surgery. He completed his preceptorship through the ASMS, took the fellowship examination and received his fellow status with the ASMS in June 2005.
The conversion to a full-time surgical dermatology practice required an increase in space. First Capitol Surgical Dermatology moved into its current location at 901 S. 5th Street in August 2005. The unique design of the building reflects the historic nature of the neighborhood. Its courtyard and warm ambience provide a peaceful setting for patients and families. The staff at First Capitol Surgical Dermatology continues over the years to care for patients with a gentle, Christian attitude. We serve an area that extends east to north St. Louis County, west to Montgomery County and north to Pike County, as well as the St. Charles metropolitan area.